A gift from Leolandia to you!
Haven't you used your free return ticket in July yet? We'll extend it until August 14th!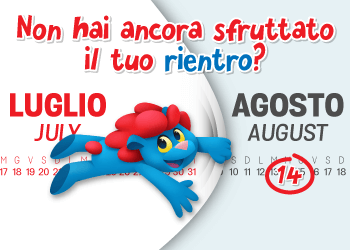 There's an extraordinary new opportunity for families who purchased fixed-date or open date tickets in May and June to visit the Park, but couldn't use their free return ticket for July. Leolandia offers the chance to come back for free - with the same tickets used in May and June 2019 – until and including August 14th 2019, not just until July 31st 2019!
Grasping this opportunity is very easy: guests who came to visit Leolandia in May or June 2019 can directly come to the park's entrance gate and enjoy a fun-filled day by presenting their old tickets.
It's a total novelty as we want to celebrate the summer atmosphere at the first-ranked theme park in Italy, according to the Tripadvisor ranking, by giving an extra opportunity to the guests who couldn't use their free return tickets for July so far.
A variety of experiences to enjoy with families awaits children and adults, ranging from the great novelty that marked summer at Leolandia, La Baia dei Piccoli Surfisti, the water area specifically designed for children, where even the youngest ones can have fun and refresh themselves! In addition, you can enjoy Notti Magiche, special nighttime events where the fun continues until 10:00 p.m. with finale fireworks; check out the dates on our calendar!
Every day, over 40 attractions, the historic Minitalia, the Farm, the Reptile House, the Aquarium and a lot of shows for children await guests who visited Leolandia in May or June 2019 and kept their tickets to use it until and including August 14th 2019.
*Please note that previous promotions that enable guests to return to the park for free, the "Rainy day ticket", the "Park + Hotel" deal, passes or future promotions are excluded from the promotion extension, unless indicated otherwise.