Come in September and come back for free from November to January 6th!
The most popular promotion is back with an extra gear!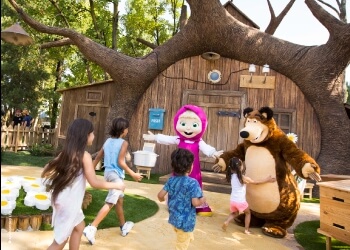 Even though you feel sad upon returning from holiday, Leolandia brings back a smile! Grab the most popular promotion: enjoy September with your family and come back for free from November to January 6th* by using your free tickets on one of the days dedicated to HalLEOween, the witch party especially designed for children or, alternatively, by coming to find out what's new on Natale Incantato!
How can you validate your tickets and use them again?
Please remember to visit the Promo Point when coming in September to get your tickets validated for the second free visit! Keep your tickets safe and get set for extraordinary moments to live with us!
In addition, you have a new opportunity this year: you can upgrade your fixed-date or open date tickets at the InfoPoint and get a 2019 Mini Pass! Read more here.
*This offer cannot be combined with other previous promotions that enable guests to return to the park for free, such as "Come in August and come back for free on HalLEOween", the "Park + Hotel" deal, the "Rainy day ticket", passes or future promotions, unless indicated otherwise. You can enjoy free admission to the park 1/11 to 06/01/2020 only when purchasing and using your ticket in September. View our promotion rules here.