Come in october and get a free ticket for Christmas holiday!
Leolandia wants to celebrate its first Christmas with a new promotion!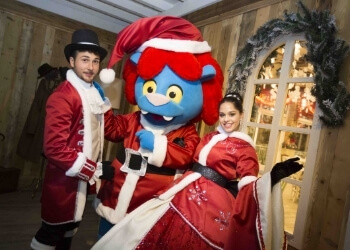 Leolandia has great news for adults and children: for the first time, the park will celebrate an Enchanted Christmas with a promotion underneath the Christmas tree for the entire family.
A double opportunity to have fun: you will be immersed in a fangtastic HalLEOween atmosphere by buying your tickets for October, but that's not all as you can return for free on a day of your choice between December 1st 2018 and January 6th 2019 to enjoy an Enchanted Christmas.  In addition to the park's attractions, brave penguins, lovely Snowmen and many more characters will be waiting for you in an area of the park that will be themed completely, so that you can savour the festive flavours of cinnamon and ginger!  Meet Santa Claus and take a picture with him smiling at the rhythm of the famous "Oh Oh Oh!"
Getting this offer is very easy as you just need to buy an admission ticket valid for October (fixed date, open date tickets or Park+Hotel packages), go to the Reception desk or Punto Promozioni (Promotion desk) on the day of your visit, where the staff will validate your and your family's tickets for your free return ticket you can between December 1st 2018 and January 6th 2019.
Leolandia, the most popular theme park for families and children aged 0 to 10 years in Italy, is waiting for you to celebrate an Enchanted Christmas, meet PJ Masks, Ladybug and Cat Noir and visit the new themed area that has been recently opened, namely La Foresta di Masha e Orso (Masha and the Bear's Woodland). In this area you can get on Vroom, the first roller coaster specifically designed for children from 90 cm!