La foresta di Masha e Orso
Embark on a new adventure with your family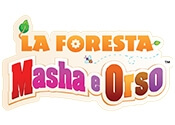 VROOM

Fasten your seatbelts and get ready for take-off!

You can feel the sensation of touching the sky aboard Vroom: an unforgettable experience to share with your children (from 90cm.), who can feel the thrill of the first flight on a real roller coaster. And don't forget to smile as a camera is waiting for you in the heights!
MASHA'S COURTYARD

In the waiting line for Vroom, your children can have fun with the water playground in Masha's courtyard, where they can meet many friends of the little Russian girl!

They can see pig Rosie sunbathing, the goat and Masha's dog… by the way, where is he hiding now? Come and find it out!
BEAR'S WOODLAND

Embark on an adventure in the woodland full of magic, surprises and fun:

discover the attractions in Bear's woodland! Your children can find and visit Bear's garden in the middle of the woodland, climb in the playground making them feel like adventurers, have fun on the Wolves' Ambulance, or refresh themselves in Bear's pond while jumping from a water lily leaf to another!
Il Vagone ristorante

After enjoying all these attractions, finish your day of fun with mouth-watering dishes in a relaxed atmosphere!

You can order your gourmet toast menu in the carriages of an old train! You'll enjoy a fun dining experience!
Masha and the Bear: il Circo della Foresta

Ladies and gentlemen, children of all ages, enjoy the new and hilarious circus show along with mischievous Masha and lovely Bear!, you can find them at Teatro della Foresta