A new adventure begins with La Foresta di Masha e Orso!
You can fly high on Vroom exactly like Penguin!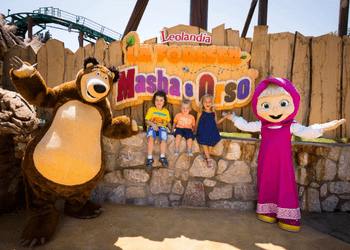 Based on a true story, here is Vroom, the first attraction where even the youngest children can experience the thrill of their first flight on a real roller coaster.
Exactly like Penguin, in episode 23 of Masha and the Bear's adventures, you can also board the colourful plane that will let you fly in the sky of Leolandia while spinning upside down and approaching Minitalia Sea.
Penguin, Masha's lovely friend, was born in our heroes' woodland and bonds with little Masha immediately. However, her arctic friend needs to live in a cold place, exactly like his habitat: Bear remembers that he's got an old toy plane, so…he's ready for take-off! Penguin races past at high speed and can come back to the South Pole, but first he decides to stop by at Leolandia! All Masha and Bear's friends living in the woodland have seen Penguin having fun on the plane, so they want to try to fly high: do you want to try too?
After having fun on Vroom, you can visit the new Foresta di Masha e Orso (Masha and the Bear's woodland), which will astonish you every step of the way: Bear's garden, Masha's courtyard where children can enjoy water fun, the Pond and water lilies children can jump on, the Adventure Playground and the Vagone Ristorante where families can have lunch with gourmet toast menus in a relaxed atmosphere!
Meanwhile, Masha and the Bear are waiting for you with Canta e Balla con Masha e Orso (Sing and Dance with Masha and the Bear), the show where you can sing the most popular cartoon songs and snap a special group photo!