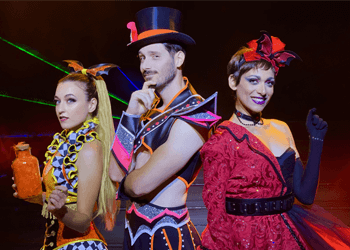 Starting on September 25th, Leolandia will have a touch of orange: the most beloved time of the year will be back, HalLEOween, the witch party designed for children!
In 2021 little witches, pumpkins and magic brooms will use theri spells to bring great surprises and turn Leolandia into the magical HalLEOween world.
Enjoy the new HalLEOween show: L'Accademia dei Vampiri!
Four girls are ready to attend the lessons of friendly teachers and a hard-working head teacher, who will lead you to explore the mysterious and magical Vampire school at Leolandia! But don't be  scared... the vampires are friendly and fun!
Don't miss our shows scheduled for October, 31st 2021: "Parata di HalLEOween", a burst of colours and songs that will top your family day off, and "HalLEOWeen! Saluti finali", the final show featuring fireworks!
... and many more surprises in store!
And that's not all, because different Leolandia's areas will be fully themed in HalLEOween style. Keeping yourself from laughing will be impossible with little witches, funny pumpkins, friendly ghosts and the entire families of magical Brooms, which will learn how to fly at the Flight Training School!
In addition, the "Come in October and enjoy free admission during Natale Incantato*" offer can be applied as of October: visit Leolandia to celebrate HalLEOween and come back for free during Natale Incantato!
We're looking forward to spending a SAFE and FUN-FILLED day!
*This offer cannot be combined with previous or future promotions enabling free access to the park, unless stated otherwise.