Come in May to meet Bing and come back for free in July!
The fun never stops at Leolandia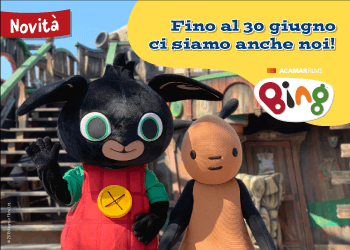 This year, the fun never ends at Leolandia: in addition to the promotion enabling you to come back for free within 60 days after your first visit to the park with the purchase of fixed date or open date tickets; you'll have the chance to get one more free ticket* starting from May.
You'll be offered a new special promotion: after using your park ticket in May, you can come back for free in July to enjoy the summer and Notti Magiche (Magical Nights) at Leolandia; you'll experience a grand finale to your Leolandia day with the nighttime fireworks spectacular!
How can you validate your tickets and use them in July?
Come to Leolandia between May 1st and 31st using fixed date or open date tickets, have fun to the fullest, meet Bing and Flop, Masha and the Bear, PJ Masks heroes, Ladybug and Cat Noir and Thomas the Tank Engine; enjoy our shows and get ready to have a ride with your children on over 40 attractions that Leolandia offers to guests of all ages!
Please remember to go to the Promo Point, where the LeoStaff will validate your tickets to come back for free!
Keep your tickets safe and get ready to spend magical evenings in the summer: the fun will last until 10:00 p.m.!
We're waiting for you and your family!
*This offer cannot be combined with other previous promotions, such as "Come by April 19th and come back for free in May", or future promotions. With the use of a ticket in May, you're eligible for a free return ticket to be used between 01/07/2019 and 31/07/2019. Please read the promotion rules here.