Come in july and come back for free at the most magical time of the year!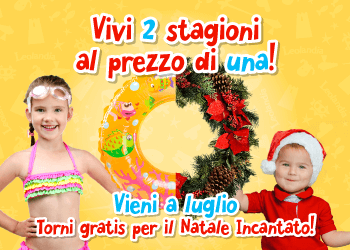 This year the fun continues at Leolandia: in addition to our promotion that enables guests holding fixed date or open date tickets to visit the park for free within 60 days after their first visit; Leolandia offers the chance  to use a new free admission* starting from July to experience two different moments at the park.
There is an additional special offer: after using your park ticket in July, you can come back during "Natale Incantato di Leolandia" to enjoy the brightest and most magical time of the year. A unique ticket to enjoy two exciting moments at Leolandia: on one hand, you can enjoy water attractions, sprays of water and the spectacular Magical Nights, on the other hand, spruce trees with lights, colourful decorations and glittering scenery. Two wonderful moments to enjoy with your family!
How you can validate your tickets and use them at the most magical time of the year too?
Come to Leolandia from July 1st to 31st by using fixed date or open date ticket, have fun to the fullest by meeting Bing and Flop, Masha and the Bear, PJ Masks heroes, LadyBug and Cat Noir and Thomas the Tank Engine; enjoy our shows and take a ride with your children on more than 46 attractions Leolandia offers guests of all ages!
Please remember to go to PromoPoint, where the LeoStaff will validate your tickets, so you can come back for free! Keep your tickets safe and get ready to enjoy extraordinary moments with us!
We're waiting for you and your family!
*This offer cannot be combined with other previous promotions that enable guests to return to the park for free, such as "Come in June and come back for free in July", the "Park + Hotel" deal, the "Rainy day ticket", passes or future promotions, unless indicated otherwise. With the purchase of a ticket to be used in July, you can benefit from the free admission valid from 16/11/2019 to 6/01/2020.  Please read the promotion rules here.