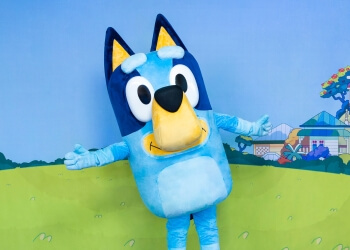 The funny and loveable Blue Heeler puppy will be inviting the little LeoGuests to join the first and one-of-a-kind mini-live show in Italy that will be performed three times on Minitalia stage every day..
Bluey will have fun plays jokes on Leolandia's entertainers with her magic xylophone and playing Copycat. She'll be copying their moves and encouraging the kids to dance to the theme music.
The fun will never end, as Bluey will be playing the popular Keepy Uppy with kids and grown-ups. Do you all remember the rules? The balloon mustn't touch the ground!
And that's not all! After the mini-live show and before going home to her family, Bluey will give kids the chance to meet and have a picture taken with her at Leolandia to treasure magical moments.
We'll be waiting for you in a magical world that does exist!
uptdated on 7/18/2023 at 4:30 p.m.