Grand opening 2020: PJ Masks City!
Get set to become real Superheroes!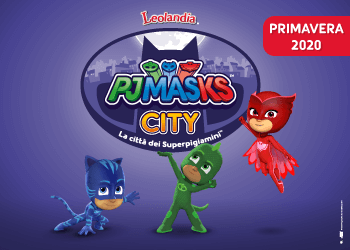 Two openings announced for spring 2020: the start of a new Leolandia season and the launch of the new themed area, where you and your kids will be the play the key roles of the extraordinary adventures of the PJ Masks trio!
Get ready to become a real Superhero and experience new emotions with your family: enjoy the attractions, the special effects and a new and compelling story that will end with a meet and greet with PJ Masks heroes! Your children will have fun and feel as they were their cartoon heroes to defeat the baddies and restore peace and tranquility to the quiet PJ Masks City!
In addition, the most spellbinding time of the year, Natale Incantato, is starting on November 16th at Leolandia: a special gift awaits you under our Christmas tree: you can visit PJ Masks City for free! Thanks to the "Come during Natale Incantato and enjoy free admission in 2020 to visit the new PJ Masks area!"* promotion, you can enjoy the park twice and experience the novelty of the year in person! Learn more about the promo and don't miss the chance to have fun twice with one single ticket!
#ènotteinPJMasksCity
*This offer cannot be combined with other previous promotions that enable guests to return to the park for free, such as "Come in October and enjoy free admission from November", the "Park + Hotel" deal, the "Rainy day ticket", passes or future promotions, unless indicated otherwise. You can enjoy free admission to the park between 14/03/2020 and 10/04/2020 only when purchasing and using your ticket between November 16th 2019 and January 6th 2020. View our promotion rules here.