Check out the summer promo Mini Season Pass!
Get the mini season ticket and live Leolandia whenever you want!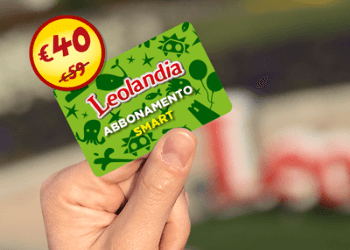 Take advantage of the exclusive summer promotion and get ready to experience Leolandia every day!
Discover all the summer fun right away, come back in September to bewitch the magic of HalLEOween and end the season with the sparkling Enchanted Christmas!
Only by purchasing a Mini subscription you will have the opportunity to experience all the magic of Leolandia right away and until 6 January 2020, but the real opportunity is to be able to access the special pre-sale for the 2020 season at an advantageous price!
You can choose whether to buy:
The Smart Mini season pass for the reserved price of € 40 instead of € 59 and access to the park every green opening day + use 2 free admissions during the red days;
 Or choose the No Limit Mini pass for € 75 instead of € 129 and experience Leolandia without limits!
Mini passes can only be purchased inside the park!
Present yourself in Leolandia with your fixed date or free date tickets pre-purchased on leolandia.it or at the ticket office, show them at the Info Point and upgrade to become a Mini 2019 Subscriber!
Take a look here at the days available depending on the chosen Mini subscription and become a LeoAbbonato!
Subscribe to all the fun of Leolandia and you will access the special pre-sale reserved only to already subscribers: advantageous rates for season tickets for the 2020 season await you!
The fun of Leolandia is waiting for you, come and visit us and buy your subscription!