A season of news: La tana di leo for your dinner in Leolandia!
Tonight the chef recommends: family fun!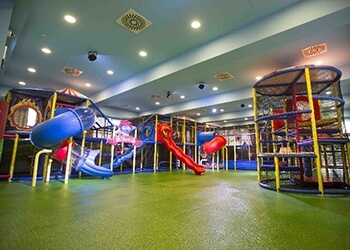 Every Saturday and on May 1st, after your day of fun at Leolandia, you can have dinner at La Tana di Leo, the restaurant and playground for you and your family!
You can crown your day with the relaxed atmosphere of the table-service restaurant while your children are making new friends in the indoor playground!
Have a look at the menus for adults and children: ranging from the starters to the mains and the classic taste of Italian pizzas. And for your children, there is a wide selection of dishes, so they can get their tummy filled before having fun in the indoor playground. In addition, bottle warmers, highchairs, nursery facilities and organic baby food are available for sale at the restaurant: the perfect place where new mums and their babies can relax!
Please note that there are limited seats. Click here to book your dining experience and entertainment now!
For further information on booking the experience at La Tana di Leo, please call us on + 39 02 9090169 or send an email to accoglienza@leolandia.it. We are waiting for you!