The most charming time of the year: this is the first Natale Incantato
Get into the festive spirit to celebrate the first Christmas season at Leolandia!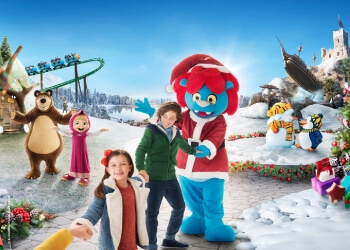 On November 24th join us in the grand inauguration as this is the first time Leolandia is celebrating the most beloved period of the year with Natale Incantato! You and your family will receive a warm welcome with a cosy atmosphere: come in from the main entrance and... get ready to be dazzled!
A huge Christmas tree will light up the park during the lighting show. Elves, snow fairies and lovely Christmas characters will immerse you in the Natale Incantato atmosphere at Leolandia. Put on the skates and have fun on the ice-rink with your kids, snap a photo with Piringuini and snowmen and meet Santa Claus to give him your kids' wishlist and letter of good intentionsa: download the template, fill it out and bring it to him!
You can have fun with new shows, many characters and attractions during the festive period of Natale Incantato. In addition, our special guest Oggy from "Oggy and the Cockroaches" is looking forward to snapping a hilarious photo with you! And last, but not least, many open rides and cartoon characters such as Ladybug and Cat Noir, PJ Masks, Masha and the Bear will be waiting for you!
Natale Incantato at Leolandia will be held from November 24th to January 6th 2019: buy your tickets now!