Polly Pocket is coming to Leolandia!
A host of surprises for this summer!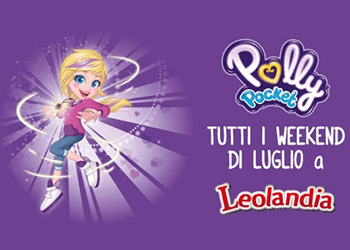 Every weekend in July, and for the first time in Italy, you and your kids will have the chance to meet Polly Pocket in person, have fun, sing with her and snap a souvenir photo! In addition, you can admire the famous mini dolls, who will be coming to the historic Minitalia, at some of the most famous squares of miniature Italy: who will be the one to snap the most social photo of all time and make miniature dolls look full scale as they will be visiting monuments of Italy? Post them on social media using the hashtags #PollyPocketaLeolandia and #Leolandia. The prettiest and funniest photos will be featured on Leolandia's Instagram.
Don't miss this chance, come and enjoy this summer with your family at Leolandia and benefit from the promotion this June: if you come in June, you can come back free in July and experience the magic world at Leolandia twice!