On May 1st a new exciting season starts!
Ready to come back and have fun with us?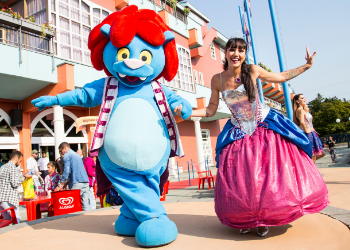 May 1st is the date to mark in your calendar: a breath of magical and emotional air with wonderful memories to capture with a photograph, so that you'll never forget the wonder of becoming children again, even for just one day, and see your children get excited with their favourite cartoon characters.
Great surprises await you and your family to start the new season!
First of all, the great new area dedicated to PJ Masks heroes, PJ Masks City, which will entertain you: get on the Owl Glider, visit the interactive Museum, play in the large Playground and much more to help PJ Masks defeat all baddies! Watch out for the laser beam as well as for Romeo's Robot, Luna Girl's moths and Ninjalinos, who are just around the corner, ready to steal the precious pterodactyl! Bing and Flop are getting ready to stay with us for the entire season, to welcome you warmly and to take a picture with your kids, who enjoy with them new adventures every day on TV:  they really exist at Leolandia!
New and exciting shows await you, such as Favola: a journey to faraway lands, follow the round-the-world trip of Prince Aron and Princess Anne... an old acquaintance of theirs will be back!
A thrilling season beginning, don't miss it!