Oggy from "Oggy and the Cockroaches" is coming
Meet the funny cat between November 24th and January 6th!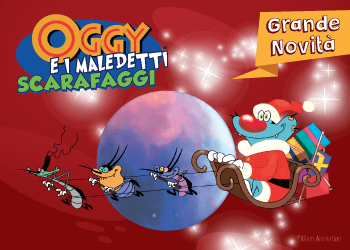 Exciting news to celebrate Christmas season for the first time: from November 24th to January 6th, Oggy, the funny cat from the animated series "Oggy and the Cockroaches", will make you laugh during the meet & greet with the cat that has always been teased by the cockroaches.
On Riva dei Pirati (Pirates  Bay), Oggy will be waiting for you in an enjoyable Christmas atmosphere: this Christmas tree is quite strange as its lights keep turning off on their own! Is it not perhaps that…the cockroaches did something to it? Find it out with Oggy, hug and comfort him for all the coackroaches' pranks and snap a unique photo to capture this memorable moment!
Natale Incantato at Leolandia will be waiting for you to get into the festive spirit: Santa Claus, the Peringuins, the snowmen and all Christmas characters and attractions will create a magical and perfect atmosphere for your winter visit! Don't miss it, buy your tickets now the earlier you buy, the more you save!