Miracle Tunes are coming to Leolandia
Find out when you can meet them!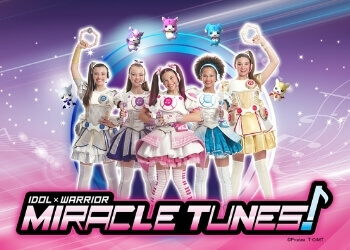 On May 19th, idol warrior Miracle Tunes are performing - for the first time at Leolandia – a new and original rock-themed show! There will be different moments for you and your family to meet them on Minitalia stage as the Miracle Tunes will accompany your day: the first one will be held at 11:00 a.m., the second one at 03:00 p.m. and the last one at 05:30 p.m. The five idol warriors will be singing their most popular songs for guests of all ages! You can dance and learn all the steps of the entertaining rock choreography from the tv series "Idol x Warrior Miracle Tunes", which has never been live performed before: it will be impossible to stay still!
During your visit to Leolandia, you'll have the chance to get ready for the meet and greet: Miracle Tunes gadgets and accessories will be essential for the original photo we'll take from the stage!
Miracle Tunes are waiting for you with an amazing mini-live show on May 19th: if you come in May, you'll come back for free and live the magic of Leolandia in the summer!