Mum, just smile: we are celebrating your day at Leolandia!
The only smiling celebration for Mother's Day is awaiting you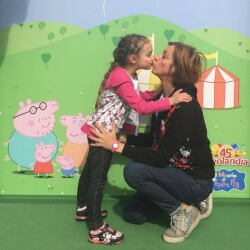 On Mother's Day falling on Sunday May 14th, Leolandia weather forecast predicts a day with beaming… smiles! Many mini events are scheduled for the loveliest Sunday of the year. While we are waiting for this day full of tenderness, mums can light up us with their radiant smiles on social networks: please send your mum selfies to social@leolandia.it. On May 15th, we are sharing an album of all received photos on the official Facebook page of Leolandia!
On Mother's Day, many "Scatole delle coccole" ("Cuddle Boxes") dedicated to all mums will appear at the park: come and discover with us all little surprises you will get in these boxes!
The queen of cartoon theme songs will perfectly complete this special and magical day: Tutti Pazzi per Cristina (Everyone is crazy for Cristina), the radio programme hosted by Cristina D'Avena where the audience can pay tributes, is coming back. On this occasion, she will encourage children to declare their love to their mothers by making special promises…
Moments of affection are just around the corner and LeoMothers will smile broadly!
All Mothers will be encouraged to participate with their families in this special day, where their smiles will be the undisputed protagonist! See you at Leolandia on Sunday May 14th!