Let's clean up all together the Mini-Seas in September
This year, the initiative Clean up the Mini-World will focus on the Sea World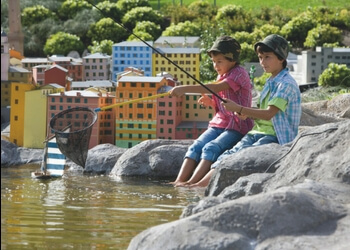 The 2018 edition of Clean up the Mini-World to be held at Leolandia, which is the miniature reproduction of the well-known initiative "Clean Up the World" and organised by the environmental organisation Legambiente, is ready to plunge into the water to symbolically take care of the creatures living in the seas in Italy.
On September 22nd, your children will have the chance to directly experience it and learn how they can protect the environment by participating in the collection of plastic from our Mini-Seas.
This activity will be actively involving adults and little ones, who will be divided in different teams. They will have the opportunity to deal with this delicate subject while having fun: you and your children can collect plastic bottles from the sea of Sardinia using long nets and then continue with the traditional waste collection from the 17 squares of Minitalia (miniature Italy), the activity aiming to stress the importance of the separate collection and recycling of items. All guests can participate in different workshops on the eco-sustainability throughout the day.
Joining this event is very easy: you just need to click here to go the event page, enter the details of your children and wait for the confirmation email that you must keep until the day of the event.
Fun never ends at Leolandia: PJ Masks, Ladybug and Cat Noir, the main characters of Miraculous, are waiting for you, not to mention Masha and the Bear with their new themed area, La Foresta di Masha e Orso (Masha and the Bear's Woodland), where you can get on Vroom, the first roller coaster specifically designed for children from 90 cm.!