All good things come in threes: Leolandia is again the 1st-ranked theme park!
Tripadvisor Traveller's Choice, the ranking determined by travellers…and by LeoGuests!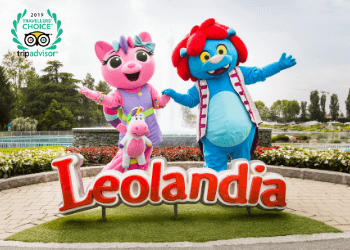 For the third year running, Leolandia confirms its place as the most popular Italian theme park, according to Tripadvisor international travellers.
Leolandia ranked furthermore 5th in Europe and 14th in the world, on the Travellers' Choice™ Amusement Parks 2019 list. It's a great satisfaction we got thanks to the affection of our LeoGuests, who choose Leolandia as the perfect destination for families season by season!
Reviews are quite clear: some refer to Leolandia as "The land of cartoons", other ones use a more concise expression by saying that "Everything's great!" and other ones watch the park in awe saying that it's "Children's dreams that come true!". Leolandia is, from different points of view, an enchanting place where the grown-ups can be children again, and it's confirmed by the LeoGuests, who consider Leolandia the perfect place for kids and families.
La Foresta di Masha e Orso (Masha and the Bear's Woodland), the latest and greatest attraction for 2018, has gained popularity among guests, not to mention the enchanting PJ Masks, the children's heroes, Miraculous™, tales of Ladybug and Cat Noir, Thomas, the glittering blue locomotive coming from the island of Sodor! And the guests' appreciation of friendly Bing and Flop, children's favourite cartoon characters, has been the icing on the cake for 2019 season.
The first-ranked Italian theme park according to the Tripadvisor ranking is waiting for you to have a wonderful summer with different attractions for the entire family!
Read more about our promotions and take advantage of favourable pricing to plan your family holiday!