La Fabbrica delle Sorprese
Learn how Kinder wonderful surprises come to life!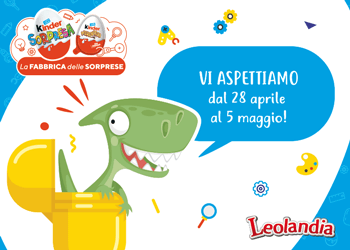 In a world exclusive, at Leolandia, you and your family will have the opportunity to learn how Kinder magic works, from Sunday April 28th to Sunday May 5th: your kids will take part in different interactive activities that will make you discover the essence of Kinder and the surprises inside the well-known yellow capsules.
Get the story behind the design, the first prototypes and final creation: creating surprise toys of Kinder Surprise and Kinder Merendero will not be a mystery!
At the end of the event, each kid will receive a certificate of "surprise inventor" and a "magical" and coloured drawing: coloured papers will be scanned to come to life on the screen in the workshop!
Furthermore, you'll have the chance to relive childhood memories thanks to your kids and a section at Fabbrica delle Sorprese (Surprise Factory) that will be dedicated to the Storyline: you'll dive into cherished memories by retracing the story of the first surprises that you likely collected!
We're waiting for you and your family at the Surprise Factory, where imagination comes true and concepts turn into toys!
Buy your tickets now and remember that this year you can come back for free within 60 days after your first visit with the purchase of your tickets!