Knock Knock, Peppa Pig where are you?
She is waiting for you inside her orginal home to greet you for the last time!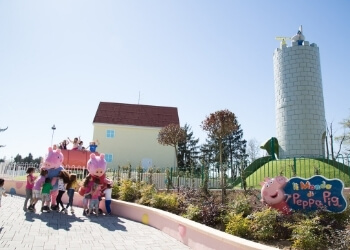 You still have time until January 6th to visit Peppa Pig's World and to meet her together with her little brother George before they leave for a new adventure!
Inside her original house you can visit their living room where the television and the telephone really works! Go up stairs and have a look to the bathroom and to the Peppa and George's bedroom where you can see Mr Skinny Legs! In the end, take a seat inside Peppa Pig Family's kitchen and meet Peppa to take a great picture together! In addition to this, your children can jump on mud puddles and get in Daddy Pig's car! Last but not least, your children can take great picture on the construction site of Mr. Bull! Hurry up, Peppa and George are wait for you only until January 6th!
And from November 24th  to January 6th  live the atmosphere of the first Enchanted Christmas of Leolandia with your family: an area entirely themed in Christmas style, the meeting with Santa Claus, many open attractions, pirates Penguins and cute Snowmen and wonderful Christmas shows are waiting for you! Do not miss!