"I Fantasmi" are joining HalLEOween, the most bewitching ever!
The most wicked time of the year is coming!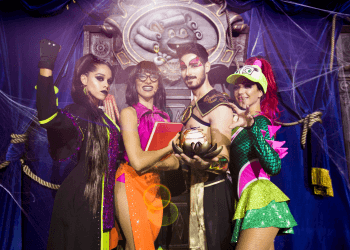 From September 28th to November 10th, Leolandia will add a touch of orange: the most beloved time of the year among adults and little ones will be back, HalLEOween, the witch party specifically designed for children, and this year will be the most beautiful ever and bring a lot of…Phantoms!
Explore with your family the spooky atmosphere in Leolandia ancient library and live a magical experience with little ghosts living inside: enjoy "Fantasmi", the new Leolandia musical and find out if our ghostbuster will get the better of mischievous ghosts!
Different fully themed area with the best-ever Halloween style created by angry, happy, shy pumpkins: snap a photo with the one you feel best represents you and post it on your social media and use the hashtag #HalLEOween. The best pictures will be then featured on the Park's official website! And that's not all: many little witches, friendly ghosts, who will make you experience fun LeoEmozioni emotions immediately at the entrance gates, entire families of magical Brooms learning how to fly at the Flight Training School will be awaiting you. Keeping yourself from laughing will be impossible!
Don't miss HalLEOween parade: a burst of colours and songs will be a cheerful part of the conclusion of your family day out.
Lastly, you can benefit from the new "Come in October and enjoy free admission from November*" promotion starting from October: visit Leolandia, wear the most spooktacular mask ever seen before, celebrate HalLEOween and you can come back for free to discover the magic of Leolandia Natale Incantato second edition! We are waiting for you!
*This offer cannot be combined with other previous promotions that enable guests to return to the park for free, such as "Come in August and come back for free on HalLEOween", the "Park + Hotel" deal, the "Rainy day ticket", passes or future promotions, unless indicated otherwise. You can enjoy free admission to the park 1/11/2019 to 06/01/2020 only when purchasing and using your ticket in October. View our promotion rules here.