HalLEOween is back, even more spooktacular!
Brand-new shows and magic potions in the most popular theme park in Italy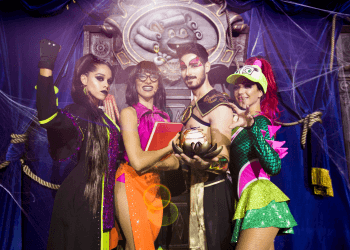 Starting on September 26th, Leolandia will have a touch of orange: the most beloved time of the year among adults and little ones will be back, HalLEOween, the witch party specially designed for children!
In 2020 a cheerful group of little witches, pumpkins, magic brooms will bring great surprises and turn Leolandia into the magical HalLEOween world by using their spells.
Explore with your family the wicked atmosphere in Leolandia ancient library and live a magical experience with little ghosts living inside: enjoy "Fantasmi" (Ghosts), the new Leolandia musical and find out if our ghost hunters will get the better of mischievous ghosts!
Enjoy the three new HalLEOween shows featuring charming mysteries and powerful potions, which will make kids and grown-ups dance with special effects and breathtaking acrobatics!
And that's not all, because different Leolandia's areas will be fully themed in HalLEOween style. Keeping yourself from laughing will be impossible with little witches, funny pumpkins and friendly ghosts , who will make you experience fun LeoEmozioni emotions immediately at the entrance gates, not to mention the entire families of magical Brooms, which will learn how to fly at the Flight Training School!
We're looking forward to spending SAFE and FUN-FILLED days!