Easter Monday with Cristina D'Avena!
Don't miss her first show of this season at the park!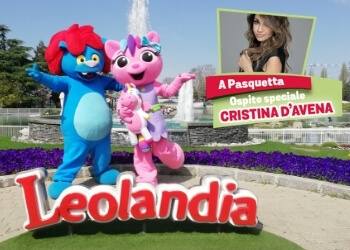 On April 22nd, Cristina d'Avena mini-live show is coming to the park: a truly special moment to spend with your kids at Leolandia as you can teach them and sing the classic cartoon theme songs that marked everyone's childhood!
Occhi di Gatto (Cat's Eye), Kiss Me Licia (Aishite Knight), È quasi Magia Johnny (Kimagure Orange Road) are just some of the most popular songs Cristina will be performing for all LeoGuests: the event will be held on Minitalia stage at 05:30 p.m.
Fun break holidays are waiting for your family: starting from April 18th, the park will be open to welcome families who want to spend Easter holidays with us.
Leo e Mia are not the only ones waiting for you: all three PJ Masks heroes, Thomas the Tank Engine, the sparkling blue locomotive Ladybug and Cat Noir as they run across the park at breathtaking speed and the must-see Masha and the Bear, who are the undisputed protagonists of their new show: "Masha and The Bear: Woodland Circus".
Finally, you'll have double the fun when you buy your tickets as you can come back for free within 60 days after your first visit! Buy here and enjoy such experience at Leolandia!