Find out what's new in 2019!
The park reopens for the new season. Ready to discover new worlds at Leolandia?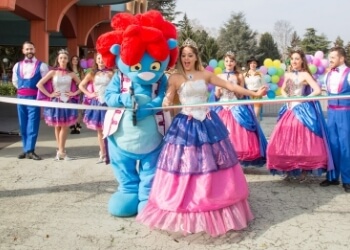 Do you dream to feel the magic for the first time or experience the same sensation thay you can only feel at Leolandia? Your dream's coming true on March 16th: your children will step into a fantasy world of fun, embark on fairy adventures and dreams will come true. This is all part of Leolandia, the theme park for children, your children!
Great news for adults and children: first of all, the exciting circus show where Masha and Bear will be the main protagonists performing in their area, La Foresta di Masha e Orso, a world that will make you feel as you and your family were in the cartoon!
But the surprises don't end there: a unique opportunity to feel the magic of Leolandia free of charge innumerable times! If you come by April 19th 2019. you can use a free ticket to enjoy the warthm of the first spring sun and make the most of your time at Leolandia on a day of your choice, between May 2nd and 31st*!
To crown your visit, a special occasion to meet a new and children's beloved friend who is coming early: come by April so you can come back for free and find out who is coming!
Don't miss the reopening on March 16th, have fun with us and come back for free in May!
*The offer can not be combined with the returns of previous promotions, such as "Come for Christmas Enchanted and come back for free in the spring", or other future promotions. In fact, only with the purchase of a new entry ticket used by 19/04/2019 you can take advantage of your free return and take advantage of it from 2nd to 31st May 2019. Discover the rules of the promo here.