Carolina e Topo Tip Balla con Noi!
Two truly special guests and lots of fun!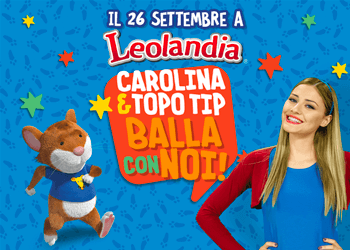 To celebrate the start of HalLEOween, the most spooktacular time of the year, two special friends are back to Leolandia: Carolina Benvenga, the beautiful kids TV host, and Tip the Mouse, the nice mouse friend of the environment! Together we'll dance to their songs, as well as to the latest baby dance songs we've enjoyed this summer!
Your children will have fun dancing with them to the rhythm of Carolina's songs and spend a SAFE, FUN-FILLED day! As usual, Leo and Mia will be on stage and join this baby dance event!
Mark September 26th on your calendar, buy a fixed-date ticket and don't miss the chance to see your web and TV heroes, who will be performing live on 3 shows taking place  during the day!
Hurry-up, the earlier you buy, the more you save! Only on leolandia.it