Carolina and Topo Tip Balla con Noi!
Two special guest stars and great fun!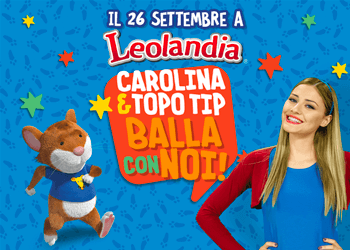 On September 15th, two special friends will be waiting for you at Leolandia: Carolina Benvenga, the beautiful kids tv host, and Tip the Mouse, the nice mouse friend of the environment!
Your children will have the chance to enjoy the most popular baby dance songs performed by Carolina!
They can dance many choreos all together and snap a special souvenir photo on Minitalia stage!
And that's not all: Leolandia offers two fun-filled days! Open date and fixed date tickets to the Park that were purchased in September will give you the opportunity to get free admission between November and January 6th*. You can then decide if you want to come back on an orange-coloured day – HalLEOween - or on a sparkling magical day - Natale Incantato!
*This offer cannot be combined with other previous promotions that enable guests to return to the park for free, such as "Come in August and come back for free on HalLEOween", the "Park + Hotel" deal, the "Rainy day ticket", passes or future promotions, unless indicated otherwise. You can enjoy free admission to the park 01/11/2019 to 06/01/2020 only when purchasing and using your ticket in September. View our promotion rules here.