Come during Natale Incantato. Enjoy free admission in 2020 to visit the new PJ Masks area!
A special offer for the grand opening 2020!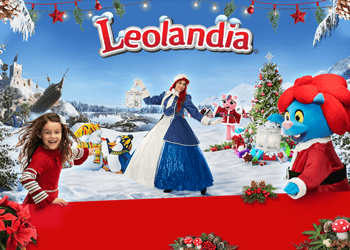 On November 16th the most charming time of the year is back. Natale Incantato is around the corner and we want to celebrate it with your your family in the best possible way! This new offer gives you the chance not only to experience  the most magical LeoEmozioni, but also to enjoy free admission between March 14th 2020 and April 10th 2020, become a real superhero, exactly like Gekko, Owlette and Catboy, and explore for the first time their brand-new themed area, PJ Masks City!
You just need to follow these simple steps to benefit from the promotion:
Spend a fun-filled day at Leolandia between November 16th 2019 and 6th January 2020 after buying your tickets on leolandia.it or at one of the park ticket windows;
Visit the PromoPoint to validate your tickets, so you can use them for your free visit;
Keep your tickets and the postcard you'll get until your following visit to Leolandia from March 14th 2019 to April 10th 2020 and present them at the entrance gate to turn them into new admission tickets.

View the park opening hours here.
*This offer cannot be combined with other previous promotions that enable guests to return to the park for free, such as "Come in October and enjoy free admission from November", the "Park + Hotel" deal, the "Rainy day ticket", passes or future promotions, unless indicated otherwise. You can enjoy free admission to the park between 14/03/2020 and 10/04/2020 only when purchasing and using your ticket between November 16th 2019 and January 6th 2020. View our promotion rules here.